En Route to the Osa Peninsula
Osa is in the southwest corner of Costa Rica (on the Pacific) and is said to be the most biologically diverse place on Earth. We were headed to the Marenco Rainforest Lodge, an extraordinarily isolated guest lodge located at the edge of the largest rainforest in the country. Getting there was a multi-step process....
(1) A light plane flies us over the mountains to an airstrip in the jungle. Flight time is 45 minutes.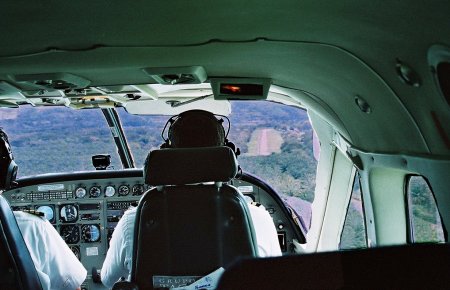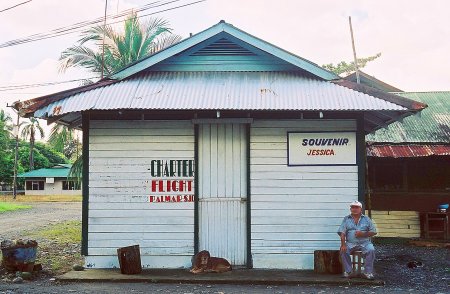 (2) A bus takes us on a half-hour trip over gravel roads, past abandoned banana plantations, to a dock on a muddy river.
(3) We board a tiny fiberglass fishing boat and head downriver for about an hour. The other couple on the boat with us are Dan and Janet, with whom we spent the next four days at Marenco and with whom we became very friendly. River wildlife included sloths and caimans (below right).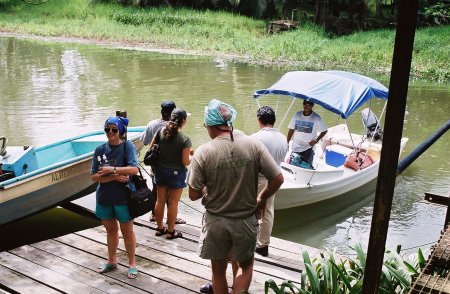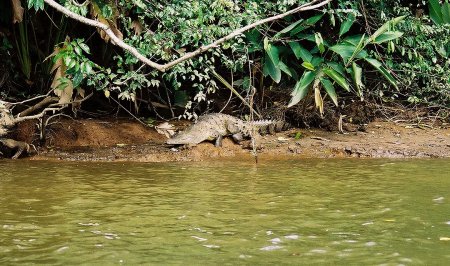 (3) After reaching the Pacific, we turn up the coast for another 20 minutes and approach Marenco Rainforest Lodge by sea (which is the only way to get there). The red buildings at left are the common buildings that include the dining area; the thatched buildings at right are the bungalows.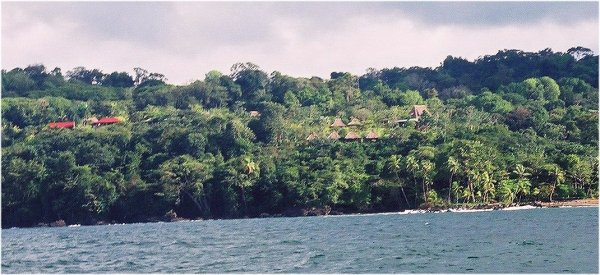 (5) We beach the boat and wade to shore.
A small tractor with a cart carries our luggage
the half-mile up the steep hillside. We, of
course, get to walk it.